Features:
1.0 -- Ultra small size and light weight ideal for any general aviation aircraft.
2.0 -- This series of ELTs CANNOT be coupled to a GPS.
3.0 -- Operates without aircraft power and incorporates an internal alarm/buzzer
avoiding costly installation procedures.
4.0 -- Six year lithium manganese battery.
5.0 -- 2 year warranty.
The KANNAD 406 AF Compact transmits a unique aircraft identification number allowing efficient location pinpointing and identification of false alarms to avoid costly search and rescue operations. A sophisticated "shock sensor" system will activate the ELT automatically in the event of a crash.
406 AF Compact kit includes:
ELT, mounting bracket, remote switch and connectors.
note: Antenna SOLD separately.



$849.95 USD funds.
Includes Certification Tags.
ELT programming is FREE.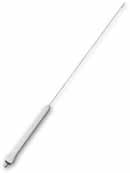 $109.95 USD funds.

$339.97 USD funds.
Plus applicable taxes and shipping.
Prices are subject to change at any time without notice.